Nine students affiliated with the Salem Baptist Church, Upper Bolifamba (Mile 16, Buea), were recipients of monetary awards towards various aspects of their education. The awards were made under the foundation's 'Academic Financial Assistance' Category. The recipients included students in primary schools (6), secondary schools (2), and high school (1). Funds received were used variously depending on the needs of the recipient e.g. school supplies, school wears, tuition/fees, registration for national exams e.g. the First School Leaving Certificate, Common Entrance Examination into secondary school, Registration for the General Certificate of Education exam, etc. Recipients of these maiden awards will continue to be sponsored by the foundation until they finish their current course or program of study.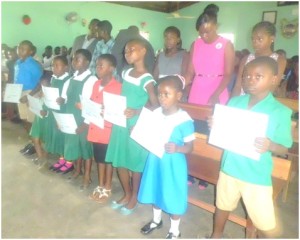 Awardees present their Certificates to the Salem Baptist Church Congregation on December 27, 2015; the congregation felt much honored that they were thought of and also that they were the first beneficiaries of this charitable activity.
These awards were made possible in association with the Julie Nalova Eko (JNE) Foundation. Funds for the awards are managed by the Salem Baptist Church. These awards were made in honor of Pastor Edward Matute Mbonde and Coach John Livena Matute.
Our appreciation to the following: Professor Paul Musonge-President/Founder of the JNE Foundation, Pastor Hansen Nafenda Ekwe and Mrs. Embelle Ekwe of the Salem Baptist Church, Buea, Cameroon, Mola Stephen Mokondo Moki-the photographer/Videographer, and Mrs. Mariana Mojoko Matute and Children, who were at hand to support the event, on December 27, 2015.