Annual Report of Activities 2017
2017 was a lean year of activities for the foundation as a consequence of the ongoing political crisis in Fakoland. As a result, the scholarship and academic financial aid programs were suspended and remains suspended.
However, the foundation was engaged and accomplished two activities outside of Fakoland.
1. Fako America Invitation: The Fako Foundation accepted an invitation from the Fako America Organization towards Fako America's June 2017 Annual Convention, in Huston Texas. At the convention, the Fako Foundation was expected to organize a Mokpwe Language Competition at the introductory and intermediate levels.
While the Fako Foundation prepared and made all the necessary arrangements for the competition, scheduling issues with the Fako America Convention, did not allow for the competition to take place.
However, during the Fako America Saturday Fund Raising Gala, the Fako Foundation presented a check to the Fako America Organization, as a donation to support Fako America's proposed health project.
2. Puerto Rico and Hurricane Maria
In September 2017, Hurricane Maria, a mammoth size storm hit the Island of Puerto Rico and left behind a carnage of destruction in human lives and material things. The Fako Foundation in solidarity with the people of Puerto Rico, made a donation to assist with the relief and recovery efforts.
As the Fako Foundation looks forward to another year of service to the people of Fakoland, the Wakpwes, and other communities, where assistance will be needed and where it will be possible, my gratitude and acknowledgement to the following pillars of the foundation.
Szrango Dr. Samuel Belsham Moki, Maryland
Szrango Dr. Augustine Evella Kange, Minnesota
Szrango Samuel Moka Moliki, Georgia
Nyango Pauline Liengu Litumbe-Hill, Missouri
Szrango Dr. Frederick Ngomba Eko, California
Nyango Embelle Litumbe, Florida
Nyango Mariana Mojoko Matute, Arkansas
Szrango George Ndiv'a Lisinge, Fakoland
Szrango Dr. Martin Moluwa Matute, Arkansas
This foundation depends on their generosity, support, and time, they are therefore greatly appreciated.
Eyole na Wakpwe (peace be with the Fakolanders)
M. M. Matute, Ph.D.
President, the Fako Foundation Incorporated
Project 1: Culture/Education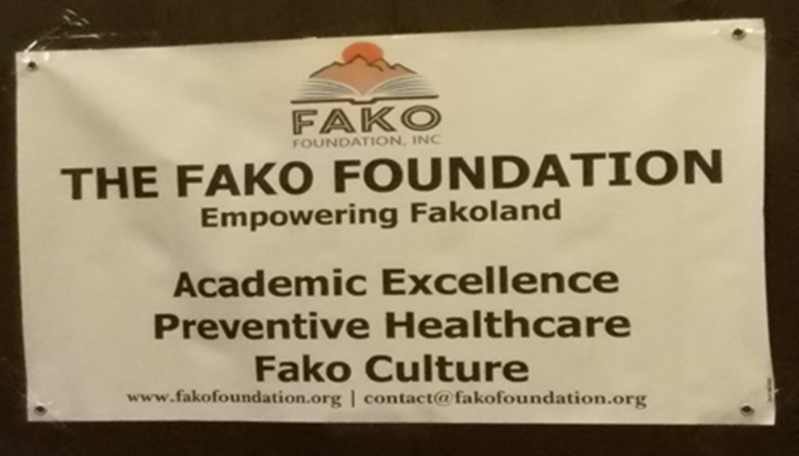 The Fako Foundation Banner (photo source: M. M. Matute)
The Fako Foundation Banner at the Fako America Convention, Houston, Texas, June 2017, during the Cultural Evening: The Fako Foundation was invited by the Fako America Organization, to make a Presentation on the Mokpwe Language during the Cultural Evening. The Fako Foundation also made a monetary contribution to the Fako America Organization towards their Health Project.
Project 2: Healthcare and Disaster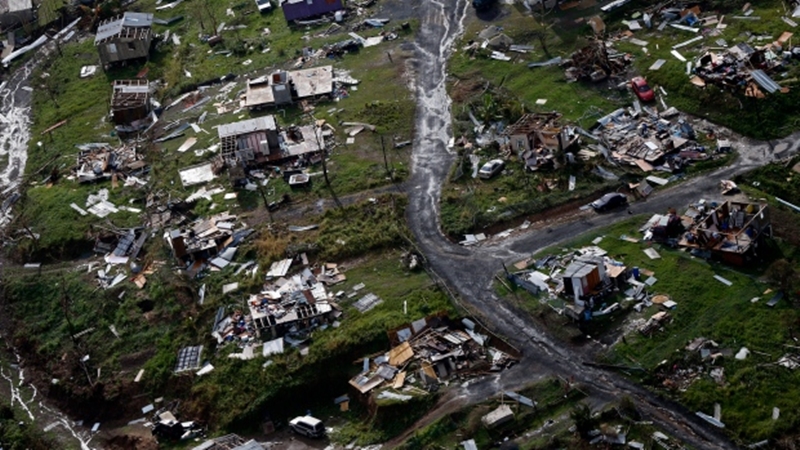 Hurricane Maria Devastation in Puerto Rico, September 2017 (Source: Google)
On 20 September 2017, Puerto Rico suffered its worst natural disaster since 1928. On the morning of Wednesday, September 20, 2017, Hurricane Maria struck Puerto Rico, devastating the island and plunging all of its 3.4 million residents into a desperate humanitarian crisis. The Fako Foundation responded to this humanitarian crisis by make a donation to the Red Cross towards assisting the residents of Puerto Rico.